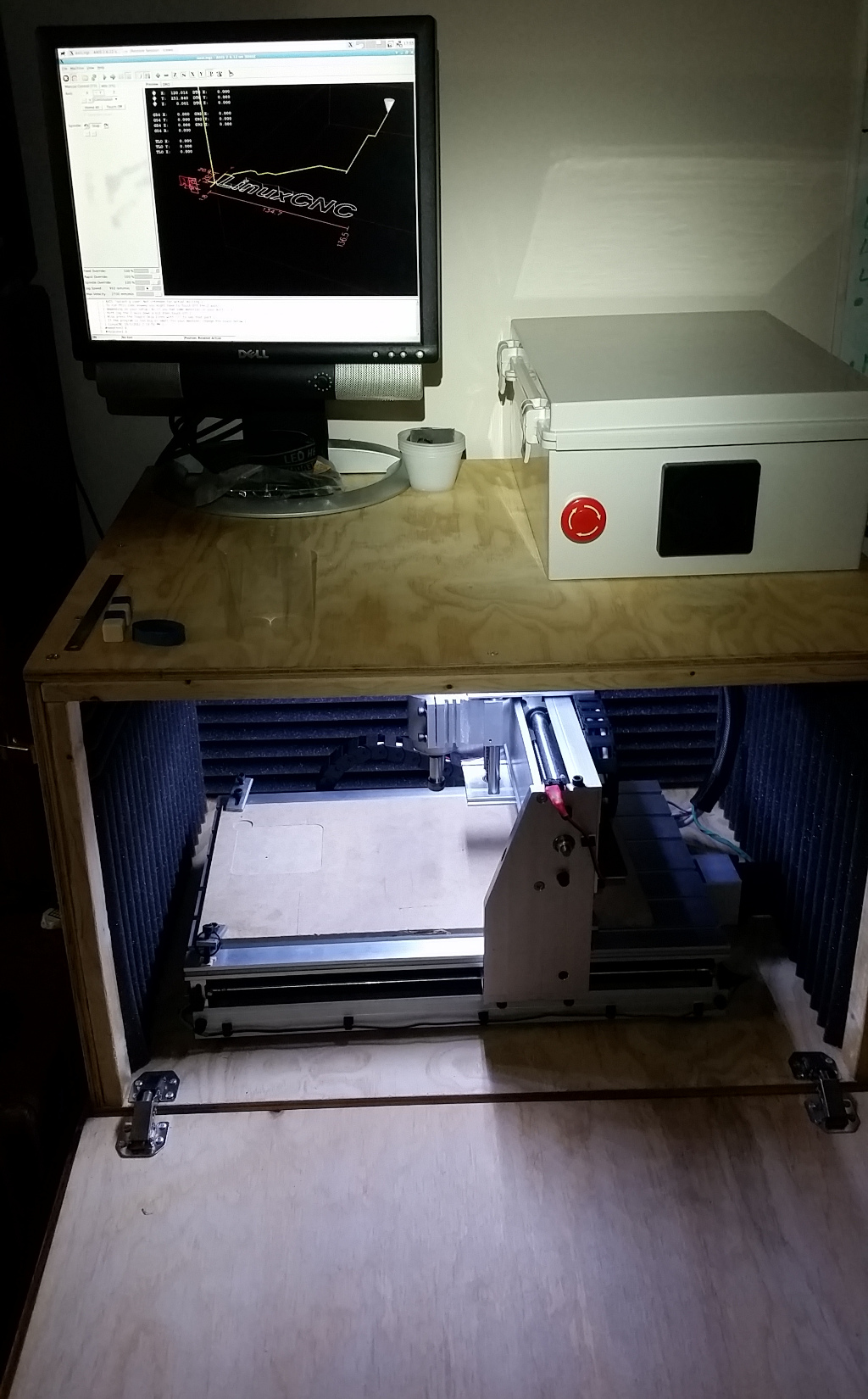 I've been fascinated with machine tools and mechatronics for well over a decade, and have been indulging that fascination with a series of little benchtop CNC machines since about 2008, especially since my collection of related degrees lend legitimacy to my desires. Because of my other lifestyle choices I'm more or less restricted to a machine which is small and well-behaved enough to operate in an apartment, is roughly man-portable, and fits in normal vehicles, at least for the time being. Possibly fortunately, this restricts me from going off the deep end and buying a small VMC, or even building out the heavier classes of benchtop machine.
Last year I started to feel like my old V1 Shapeoko (ca. 2012) was not really usable as a machine tool – it was a good toy, and I learned a ton of cool things from it, but it wasn't stiff enough, reliable enough, or laid out in a way that made it practical to use for much of anything. After I had my Shapeoko on campus for a demo day, my adviser was inspired to buy himself a complete package Chinese 3040 CNC router, and I got a chance to play with that for a few days. I wasn't terribly impressed with the electronics on it, but the frame proper impressed me enough that I decided I wanted one as an upgrade.
…So near the end of the spring semester, I ordered myself a bare 3040Z frame and a pile of parts to kit it out. The machine is built almost entirely from inexpensive Chinese components, purchased via a mixture of Aliexpress, eBay, and Amazon sellers (I've become fond of uxcell for small parts). I don't have accurate or current price quotes for the whole thing because I bought as I went, and various parts are reused from previous projects. I suspect the total is in the neighborhood of $1200 – comparable to buying a slightly more powerful finished system without the enclosure or limit switches.
It was my intention to write this up in sections as I built it out, but kept opting to play with work on the machine instead of doing more writing – particularly since such a large part of the things I'm supposed to be doing with my time of late are also writing. I finally got the last of the major parts "done" to my satisfaction a few weeks ago, so it's time to gather the pictures and notes from what should have been half a dozen topic posts and make a gigantic brain-dump.