Source: Ars Technica
Article note: Assange is a shitweasel, as people who discover their unjust victimization in one aspect allows them to get away with all kinds of bad behavior tend to be, but this shit sticking would be _real bad_ for the free press.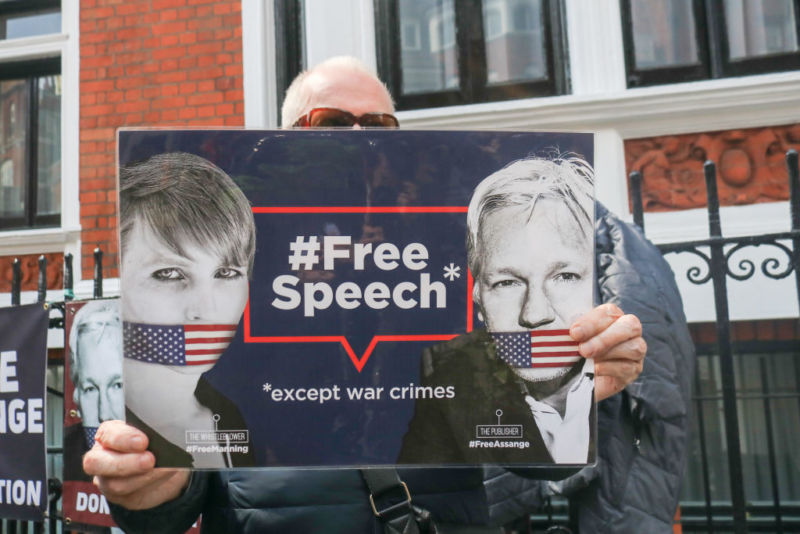 Today, the Department of Justice filed a new indictment of WikiLeaks founder Julian Assange with the US District Court in Alexandria, Virginia—adding 17 more charges atop the original hacking charge used to file for Assange's extradition from the United Kingdom. The new charges are all espionage-focused: conspiracy to receive, obtaining, and disclosure of "national defense information. Each of the 17 counts carries a potential prison sentence of up to 10 years.
In a statement announcing the filing, a Justice Department spokesperson said, "The superseding indictment alleges that Assange was complicit with Chelsea Manning, a former intelligence analyst in the US Army, in unlawfully obtaining and disclosing classified documents related to the national defense." The new counts allege, among other things, that Assange conspired with Manning to steal "national defense information," obtained that information from Manning, and "aided and abetted her in obtaining classified information with reason to believe that the information was to be used to the injury of the United States or the advantage of a foreign nation."
In a Twitter post, a WikiLeaks spokesperson wrote, "This is madness. It is the end of national security journalism and the First Amendment."