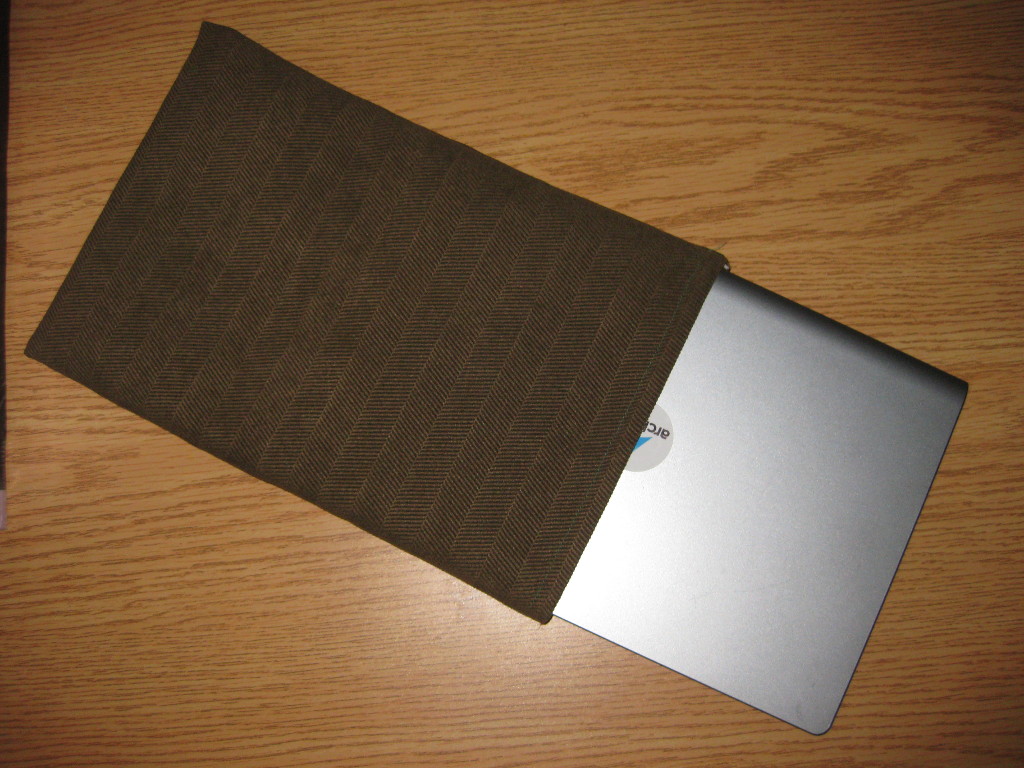 I noticed I was scuffing up the not-my-laptop that I've been carrying, so I did a little "30 minute" sewing project (that actually took over an hour because I'm apparently retarded) after I burnt out on other things for the evening.
The intention is a little sleeve that will be snug enough to retain the laptop, and let me slide it between [note]books, etc. in a bag. That means a little long, with thick hems on the open end for retention, and no flaps, fasteners, or protrusions to hang up on other things in the bag.
Basically, I measured the wrapped length and width of the machine (to accommodate for thickness), cut a piece of fabric I had around to the full wrapped long dimension (+1.75″ for hems and clearance) and half the wrapped short dimension (+1″ for seams), hemmed the short ends, folded it in half, ran a seam down the sides, half-assed wrapped the first 2″ of each side seam, and called it adequate.
Upside:
I can still sew well enough to go from conception to part on something trivial almost instantly.
My neglected sewing gear is still in working order.
My vintage sewing machine got her recommended periodic exercise and lube.
The finished product is functional and looks fine.
Downside:
I initally cut the circumference of the machine … in both directions. 1.9 sleeves worth of fabric!
One day, I will sit down in front of a sewing machine and thread it the right direction the first time. That day was not today. Bobbin thread/direction? -Easy. Complicated path through the tension and take-up? -Easy. Passing the right way through the needle? -Derp. I'll claim it's the Singer vs. White thing if challenged.
I had to look it up and still managed to use the adjustable hemmer wrong in two different ways, one hem failed to fell, the other is not really straight.
I added allowance for generous 1/2″ seams intending to cut after … then sewed 1/4s and had to redo the side seams to make it snug enough.
Using my venerable old machine always makes me feel like it and 3 generations of my family are judging me when I do something inept or half-assed on it, which probably makes my projects better.
I think I'm satisfied. I'd like it to be just a hair snugger, but the fit is pretty good and snugger would have run the risk of finishing then not being able to get the machine in. I think I want to make some kind of companion pouch for the power brick, but I'm not sure how, an attached pocket would ruin the slip-between-things-in-my-bag functionality.