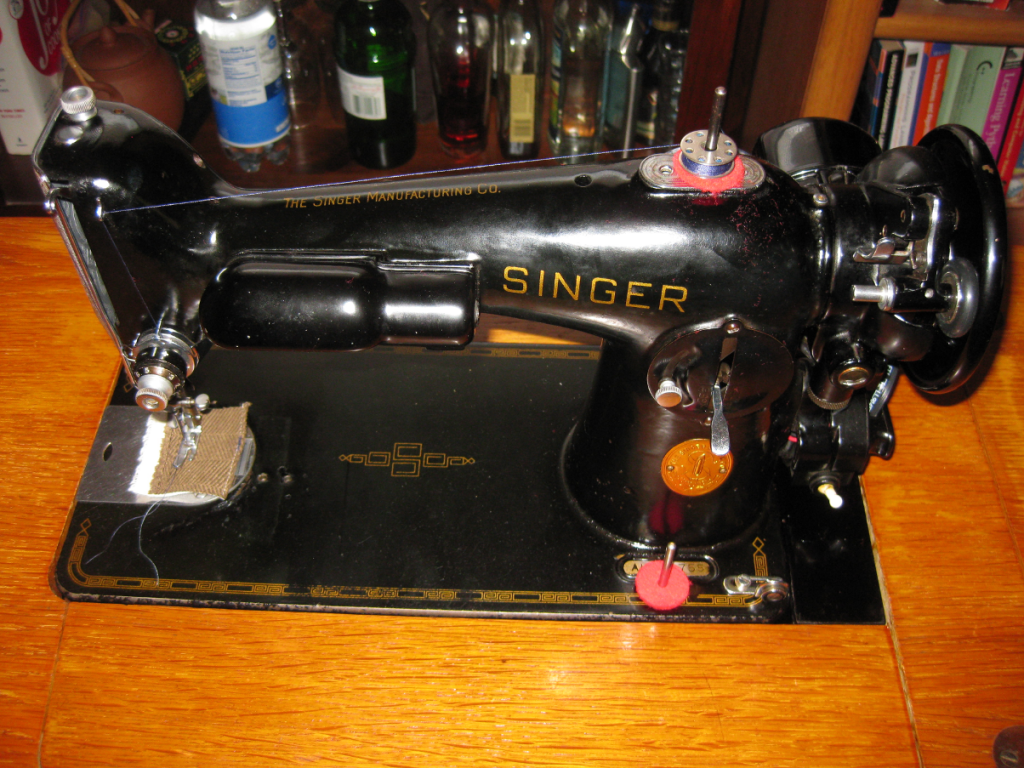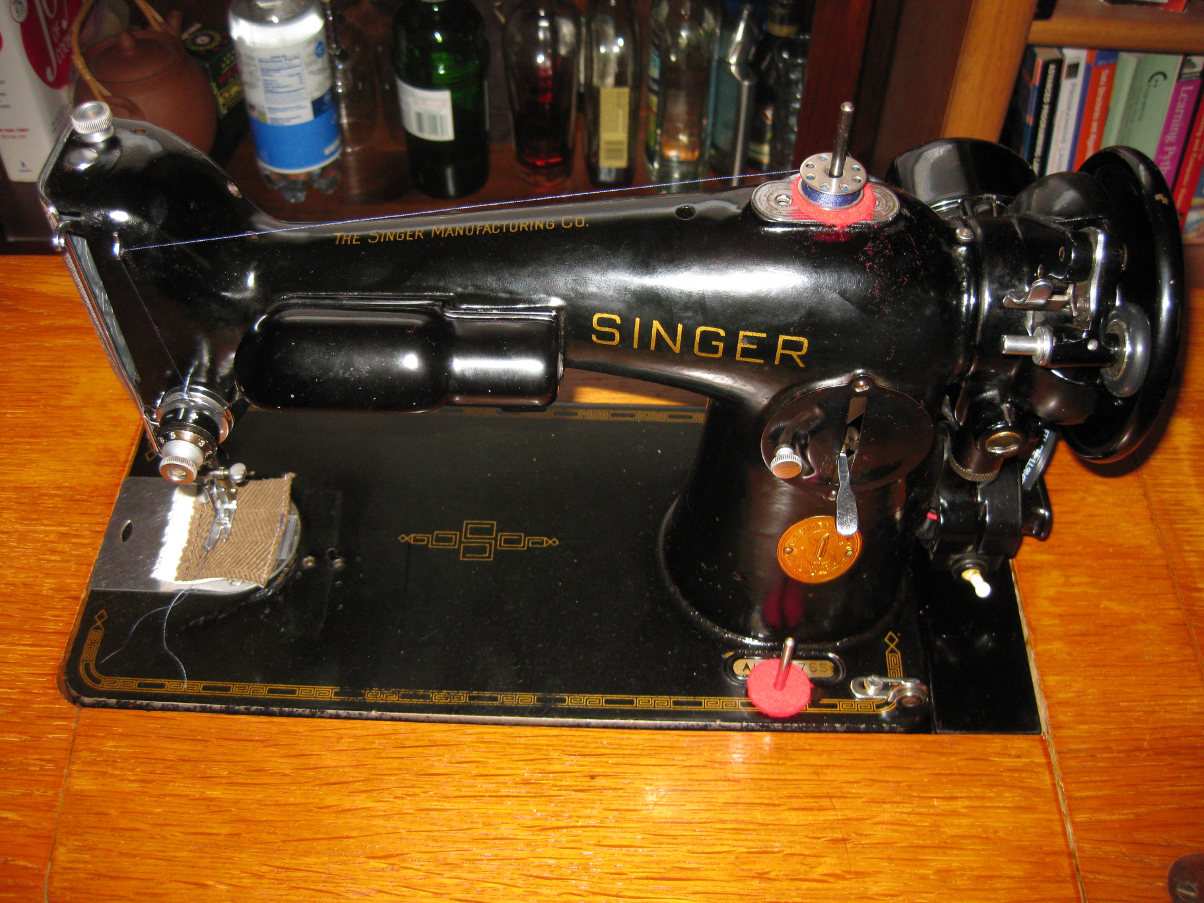 I wrote about this machine once before a few years ago, but only brought it down to Lexington to work on it at the beginning of July. I've had a delightful time cleaning restoring it over the last couple weeks, and just wanted to post some pictures and musings. I did have it correctly identified before – it is a 1947 Singer 201-2, in good mechanical and OK cosmetic condition. The machine's story from the family has settled on it being my great grandmother's machine down the matrilineal line, but I don't know if they were the original owner, or what exactly has happened to it over the last couple decades. My grandmother noted that she remembered her mother doing upholstery work on it, and my mother remembers using it as a child, and it was in my grandmother's basement three years ago. Descriptions follow pictures below.

Cleaning

The first task was cleaning. There was various grime, old dead lubricants, textile fluff, and other expected sewing machine crud built up, and it had to go. The cleaning process also provided a good chance to inspect the machine thoroughly inside and out, to find out if there were any problems or replacement parts I needed to address.
I tested a couple solvents (Limonene, Lighter Fluid, Isopropanol, etc.) on the finish and oil residue, and Isopropanol seemed to do the best job of removing the defunct oil without threatening the finish. I've heard some of the lacquers used on old sewing machines come right off in alcohols, so fair warning to others. The officially recommended solvent is Kerosene, which I didn't have in my apartment, and didn't particularly want to, so it's nice that things worked out.
I did one slightly odd thing that seems to be frowned upon by a lot of sewing machine folk – I used an antioxidant gun/tool oil on the non-working parts of the machine (shafts and non-contact faces of parts and whatnot), figuring the non-gumming demands are about the same, and putting a nice preservative layer on the metal surfaces should help it last another half century. I don't see any sign that it is discoloring or affecting running properties, so I'm tentatively calling it a good move. The working parts are all oiled with Teflon-bearing Tri-Flow "Superior Lubricant" oil.
Wiring and Motor

looked
to be in decent condition, and I was thinking I might get away without replacing it, but when I pulled the motor assembly to get the unspeakable, chunky, discolored sludge from 65+ years of adding various greases to the tubes out (See above), I discovered that the motor wiring was shot. As in crumbling insulation spreading funk all over my work space shot. I had seen a
series of nice instructions for fixing such things on VSSMB
a while back, and decided to just go ahead and re-wire the motor. There is some kind of oily funk that has leeched into the original winding tails over the years, so even with flux it was a little hard to get good joints, but they'll do. I did most of the rewiring work correctly, with color coded 18AWG stranded wire and suitably-sized heat-shrink and such, but I really should get a ring terminal set/crimper and some of the 22-18GA #8 terminals that Singer internals use to make the connections nicer/easier to service, there are a number of places I'm using wrapped wire that would be much more elegant with a terminal. I left enough slack in all the wires to fix that later. Apparently at some point a little bit of oil was introduced into the casing of my motor (
DON'T
do that), so the carbon buildup was extra sticky and awful. I cleaned it out as best I could with dry q-tips, as to not introduce any other fluids into the motor, went over the commutator with a toothpick for the grooves, a lightly alcohol-damp q-tip for the surface, then the suggested eraser, and called it good enough.
easy
to set up correctly, as there are a lot of parts with pretty tight fit, but it is indefinitely user-serviceable and makes a nice connector. The replacement exterior wiring is the 18AWG SPT-2 jacketed stuff that Sew-Classic sells and recommends. I went ahead and bought a pre-made foot controller cable because (as previously mentioned) I'm not set up to install ring terminals and it seemed worth it for the convenience. The original controllers really are a spring-loaded brush moving around on a carbon pile, which is pretty cool (if a little scary) for my not-so-inner EE.
I applied a small amount of the widely recommended Tri-Flow grease into the lower gears (Which I didn't disassemble for more than surface cleaning, I didn't want to re-time the whole machine), and it is running quiet and smooth that way, so it seems to be suitable. It is interesting to note that the gear train is all metal
except
for the worm gear (not the worm, the gear that mates with the worm) in the handwheel that interfaces between the motor and machine, which is an early composite called Textolite that General Electric started manufacturing in the 1930s. It was apparently primarily used in counter-tops, but makes a strong, quiet composite gear. I've waded through a lot of pictures and discussion on old sewing machines and can't say I've ever seen or heard of a broken one, just people fretting that it might break.
Cabinet

I just rubbed the cabinet down with some wood furniture cleaner and did some general cleaning and adjustment. However:
I found all sorts of pins and thread bits under the drawers. I also found the missing last pin for the (probably not OEM) bobbin rack in the top drawer under one of them, which is nice.
Someone messed with the finish relatively recently. It looks like there is a slightly sloppy layer of modern urethane-type finish on top of whatever the veneer was originally finished with, without a sanding job. It isn't particularly pretty, and there is a peeling spot in the middle of the rear panel. I'm trying to avoid dealing with that.
My swing arm support for the leaf has to be flipped up and out by hand. The springload gets it into position once lifted, but the little release button looking thing in the back hinge not only doesn't deploy the arm, but the pieces that are there could never work. There does seem to be a shim washer in the back assembly, and another distinctly aftermarket looking washer in the little felted foot/latch, so I'm assuming a piece of the mechanism is lost to the ages. Unfortunately, I can't find a picture of an intact one to clone/replace it from.
The lift plate (the little black spring-loaded plate behind the machine column in the cabinet) wasn't deploying flush without encouragement. It turns out you can just take out the top drawer, loosen the nut, build some tension with the big honking iron handwheel, then re-tighten the nut to adjust that. The nut for adjusting the lift plate tension is almost exactly 15mm, which I suspect means it is really 19/32″, one of those delightful "What the fuck were they thinking?" fractional sizes that has thankfully fallen out of widespread use. It sadly doesn't seem to want to stay tight, I may need to adjust the spring with some pliers.
I'm not precisely sure how the wires are supposed to be routed in this thing. Since the power cord sticks up, I have it clear of the machine. I routed the motor controller wire through the little hole in the flip-up plate.
Mistakes
The biggest thing I did wrong was not using hollow-ground screwdrivers. Everyone tells you you should, I managed to nick up the slots on a couple screws even being careful with my usual taper-points, and it isn't the first time I've had trouble with that on a project. I sucked it up and ordered a decent set of hollow-ground bits from Chapman for around $40, but it hasn't arrived yet.
I found out looking at someone else's 201 restore log that there is supposed to be an oiling felt in the presser regulating thumb screw. There was no sign of one when I took it apart, and I couldn't find it in either the lists of parts or in any modern vendor's parts offerings. It is mentioned in the adjuster's manual, and seems like a good idea, so I think I will just cut out a suitably sized chunk of craft store felt product, douse it in oil, and shove it in there.
I didn't think terribly carefully about how this thing fits into my tiny apartment when I brought it down. Because the cabinet is quite directional with the leaves, and sucks to move with the (~30lb) head installed, I need to scoot some furniture around to get it usable and not in the middle of the floor.
Conclusions
Old sewing machines are the best sort of hobby: mechanically satisfying, good community, reasonably inexpensive, historically interesting, and less likely to result in personal injury than any similar hobby. If I ever get a chance I'd love to take on a really trashed old Singer (maybe a 221) for a ground-up rebuild – I've looked at other people's project machines and it seems like fun. Most of the hobbies I enjoy fall under the "Making things that make things" umbrella, and these are right in line.
Furthermore, 201-2s are particularly awesome machines. They use a horizontal rotary hook, which makes beautiful stitches and is incredibly smooth – there is basically no mass moving out of the axis or suddenly accelerating to make the machine buck (A.B. Wilson doesn't get enough credit – he designed and patented both the rotary hook and the 4-motion feed that most good machines use… in 1851 and 1852 respectively). They're driven through a metal gear-train (no belts whatsoever), which will last forever and provide enough power to sew through pretty much anything that fits under the presser foot. It isn't the most practical object I've ever owned, but I've already done some small projects and mending on it, and it is very satisfying, both historically and mechanically. I'm still [re]learning some technique, both because I haven't done much sewing lately, and more specific things like how to use the various attachments for this era of machine.
Resources