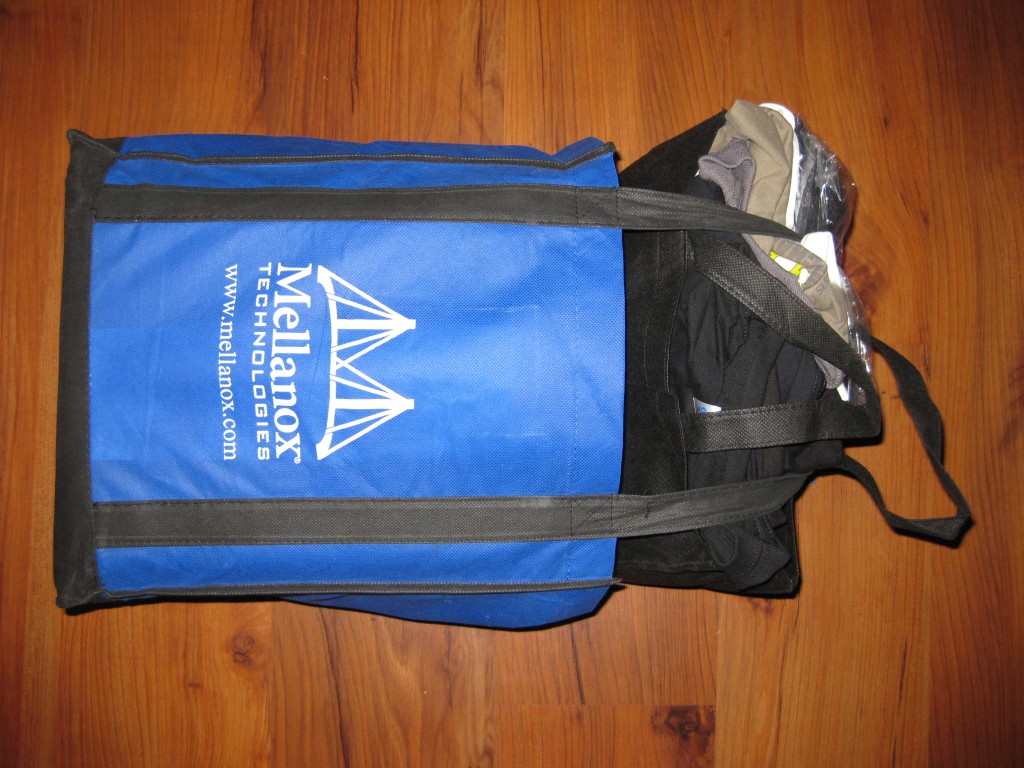 I've made a habit of these posts after SC every year, and took the pictures, so away we go.

Mellanox provided a nice ~11″ cube of a bag to pack all the crap in. Mellanox is having a good time lately based on having the dominant implementation of the dominant cluster interconnect (Infiniband), so it isn't surprising they had good stuff.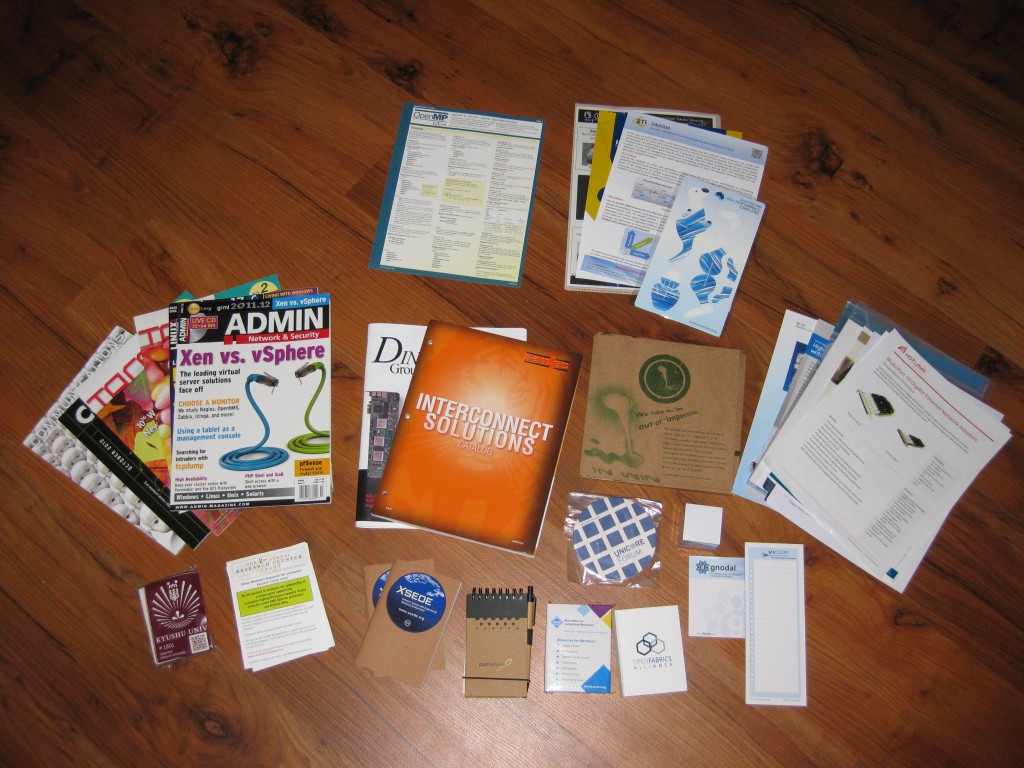 I brought home a fair pile of paper goods. I love having suitably-sized sticky notes, and the ACM standard note pack there has kept me supplied. I use a fair number of little notebooks, and haven't paid for them in years thanks to SC. I also picked up a couple useful or interesting catalogs (Samtec has nice scale-provided pictures of connectors in there, which is always hard to figure out online) and reference cards, and a pile of magazines and product docs to read about interesting things. There are also some cute bits of papercraft.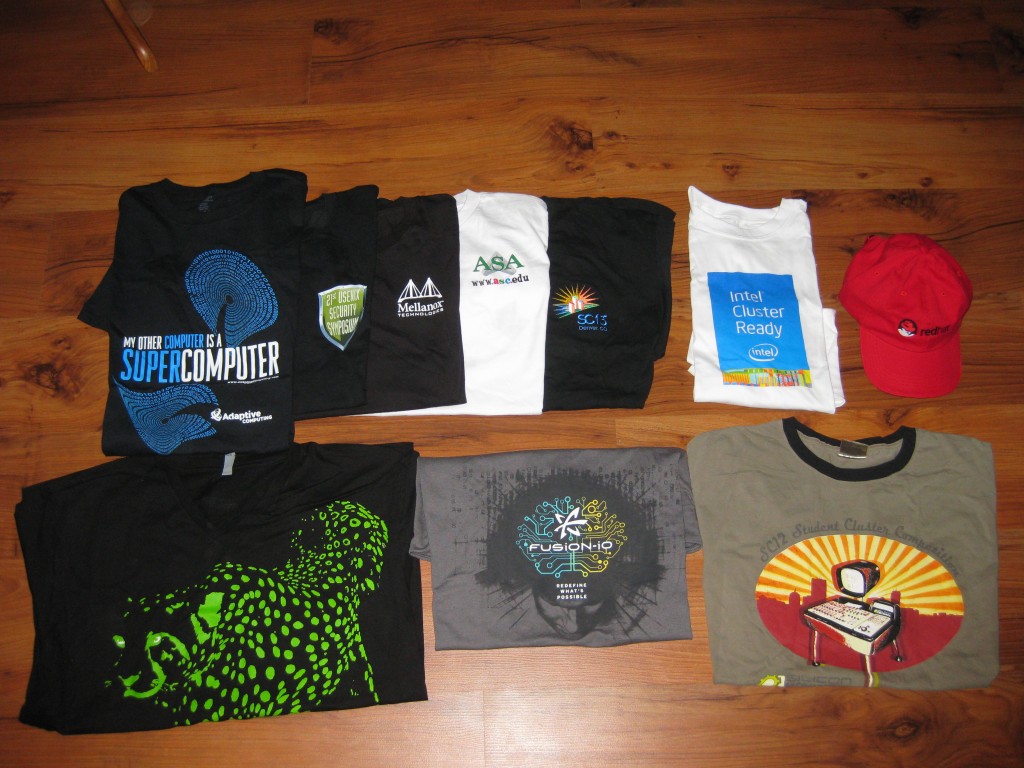 The textile haul this year was spectacular. 9 T-shirts, from Adaptive (at the Beowulf Bash), Usenix, Mellanox, ASC, Intel, Samsung, Fusion-IO, Silicon Mechanics, and the SC13 shirt from going to booth selection. Silicon Mechanics didn't have the awesome, often worn logo-on-a-black-field shirt they have had in the past, but the substitute isn't bad. I also got a lesser red Redhat hat, which is a great tsotchke, even though I don't tend to wear hats, red, or have a great deal of love for some of the things Redhat has been backing lately.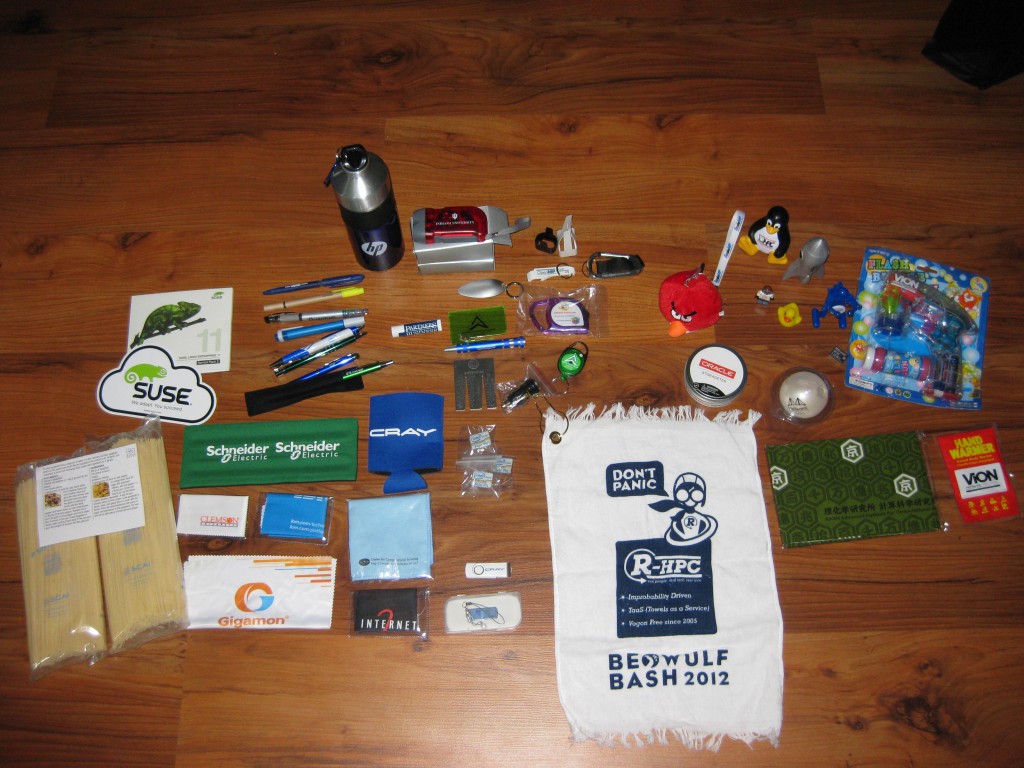 The miscellaneous objects haul was pretty fun too.
CIENA (the big Italian supercomputing center) had pouches of pasta as their booth Schawag, which was clever.
R-HPC provided cute little towels with clips for the Hitchiker's Guide themed Beowulf Bash, which is clever if not terribly useful (except for on May 25).
In toys, Oracle had tins of really fun non-Newtonian putty, Orange had lego-men again, this time not quite as well badged but with better head gear, ScaleMP had an obviously not licensed angry bird plush, RedBarn had their traditional squeezy-tux, and ViON had a bubble gun.
Tools-wise, Georgia Tech had a Car DC to USB adapter, QualityTool had a handy little gauge, and some of Intel's vendors had a handy little machined aluminum bits-in-the-handle screwdriver that our buddies at RedBarn hooked us up with. There was also a good sized assortment of bottle openers to deposit at parties, ETI had a handy little tape measure, and StayOnline was handing out samples of their locking adapters for standard power cables… that had absolutely no branding or labeling on them.
Indiana University was throwing little dynamo-charged flashlights out of their booth on the last day, and I took two hoping to repurpose the dynamo, but they are so cheaply made I'm not sure it can be separated from the plastics.
SuSE had install media for their enterprise version (although it's probably better to play with OpenSuSE as a sample), stickers, and an awesome plush that I missed out on. SuSE is consistently good for the ecosystem, so it's always nice to see them healthy.
I also got a pile of nice lens cloths (Clemson, Gigamon, IBM, Internet2, tsukuba's CCS) which are terribly useful.
I also snagged a pair of nice flash drives, one 8GB from Cray, and a neat steel construction 8GB from A-Star (Singapore's big HPC center) – the interaction there was a bit weird, the guy in the booth wasn't an English speaker, so he saw us looking and said the information was all on the drive. The drive is kind of odd as well, 8.4GB unformatted capacity, with very slow writes, and an unlisted vendor id.
There is also the usual assortment of pens and coozies and the like, and some nifty Xeon Phi pins from Intel. HP had the only water bottle this year, and it was a nice one – the pile of crappy water bottles last year was sort of absurd, although I really like the soft-sided one I got from SGI then (nothing to fall on when skating).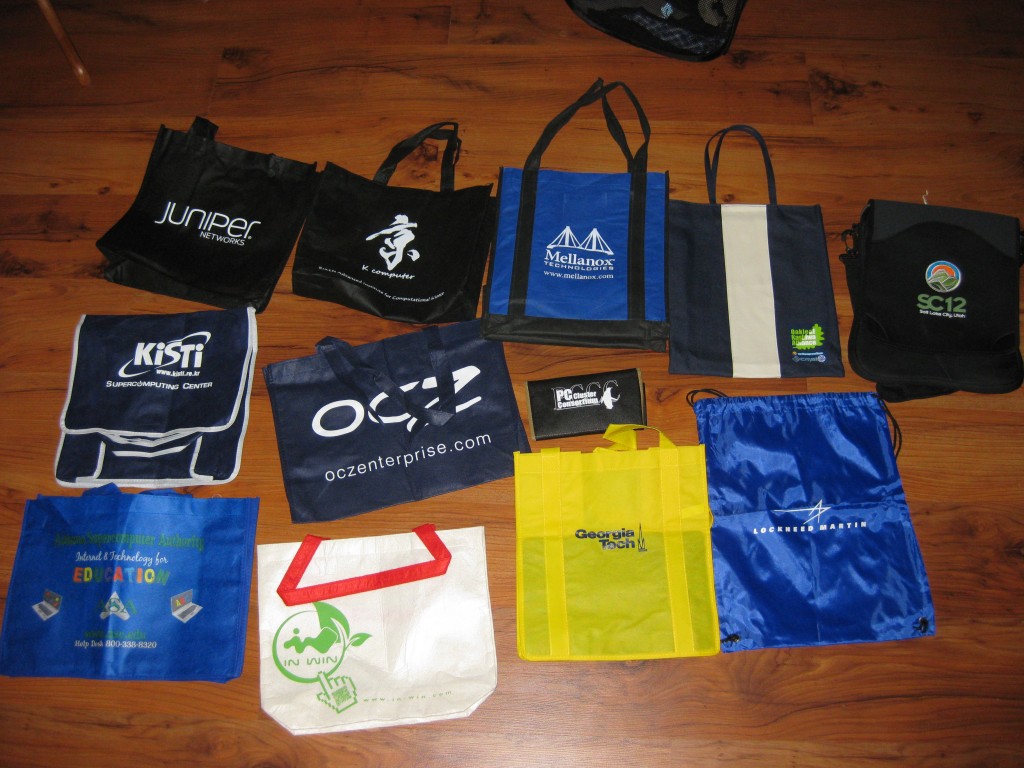 I have far more of that kind of handy reusable bags than I can ever use. This is actually a smaller (and less usefully-shaped) pile than some other years generated. I do use them for groceries and other shuttling about of small items, but the pile has outgrown where I was storing it – perhaps they will find a new life as gift bags or something.
The schwagging is a dumb thing, but it does add a great element of fun to wandering the floor.