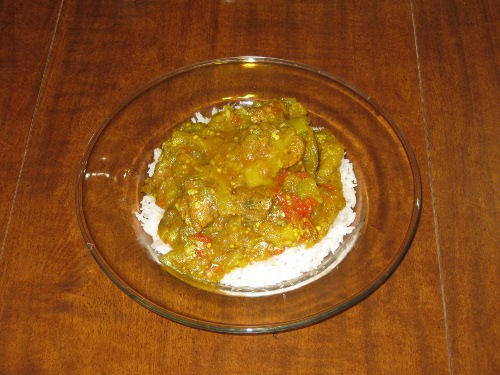 (This picture is after one reheating. I failed to take a picture right after I made it. The structure of the eggplant and a lot of the color were eaten by a night in the fridge and a trip through the microwave. It's still delicious.)
I made Khorshteh Mosamma (an Iranian beef and vegetable stew) a few days ago, and it is delicious in that classic rich, slightly spicy middle-eastern way. What was unusual about it is I actually (mostly) followed a recipe, instead of my usual browse similar recipes -> freehand it to what I want technique. The recipe came from the last issue of the Penzeys Spices catalog. The only real decisions I made not specified by the recipe were using a 50:50 mix of sweet and hot curry powders (it just says "curry powder"), and a little bit of scale adjustment.
For the spice-deprived, Penzeys Spices is a chain of very, very good spice stores, and is one of my favorite little specialty shops. A visit there will make you poor, and it's not because they charge a big premium or only sell in large quantities; it's just because they have every spice you could imagine, and I've never bought something that disappointed (although I still haven't figured out how to handle a couple things, I'm definitely still figuring out how to work the bottle of ajwain seed I picked up a few visits ago.) While I'm always sad there isn't a nearby location, it's probably a good thing… I usually end up dropping at least $50 when I visit one.