I've posted before on the slow restoration of my old 201-2 and its cabinet, last time I noted that my cabinet's swing-arm wouldn't auto-deploy, which prompted some discussions with other folks about the mechanism. One of those other pieces of input was someone kind enough to tip me off in the comments of my last note about this that there were a couple sets on ebay, which I looked at for details, then ended up buying one of for $22 shipped. I really only needed the lower pin and spring, but the spares are nice. This is what the seller pictured, and the light and camera are better than mine, so I'll just use their picture, because it was well packed and exactly as described: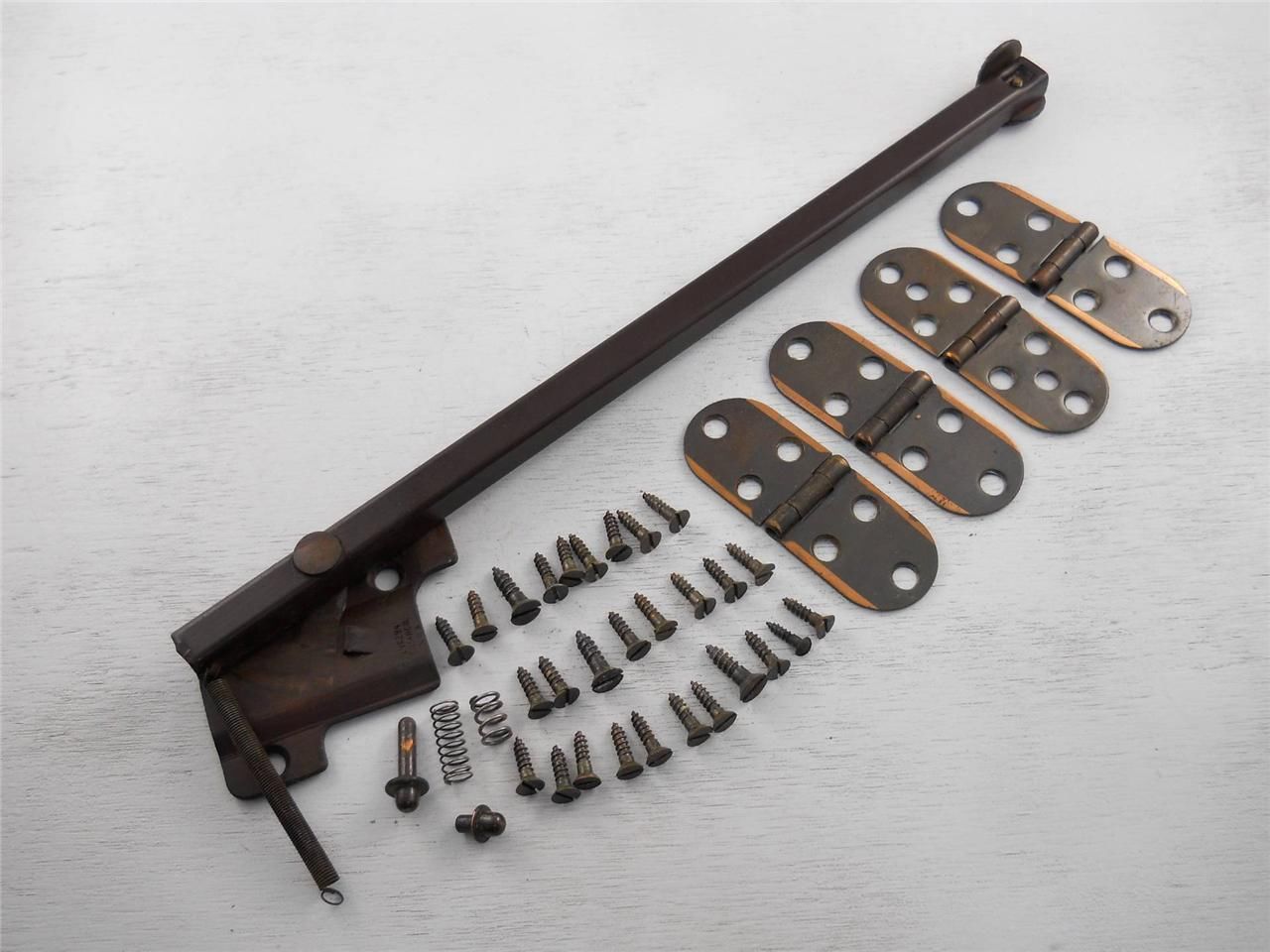 I now have mine working and have detail photos and measurements from the process that should make it easier for others to figure these things out. It's actually a really simple mechanism, the following two pictures are pretty much all you need to know about how it goes together and works.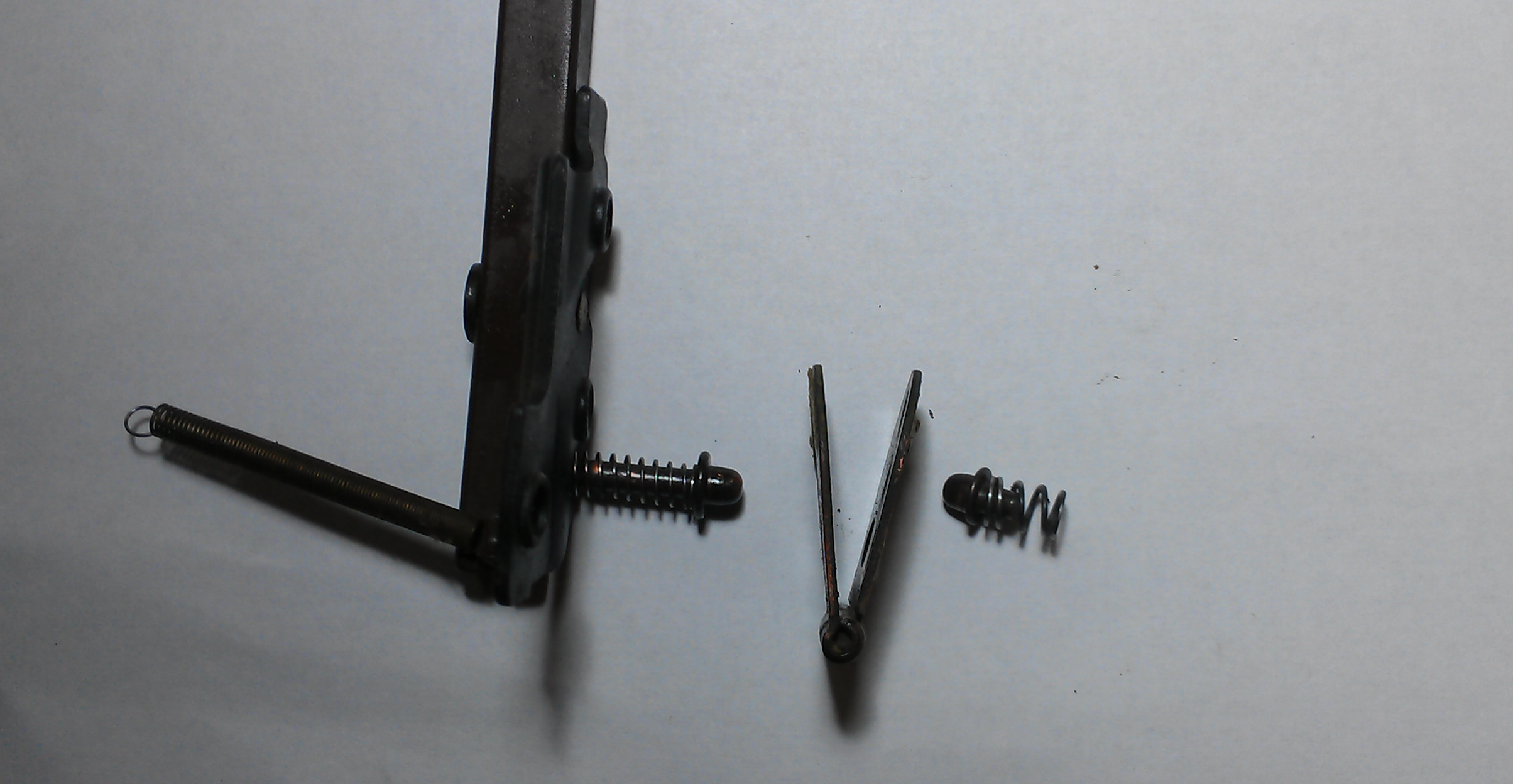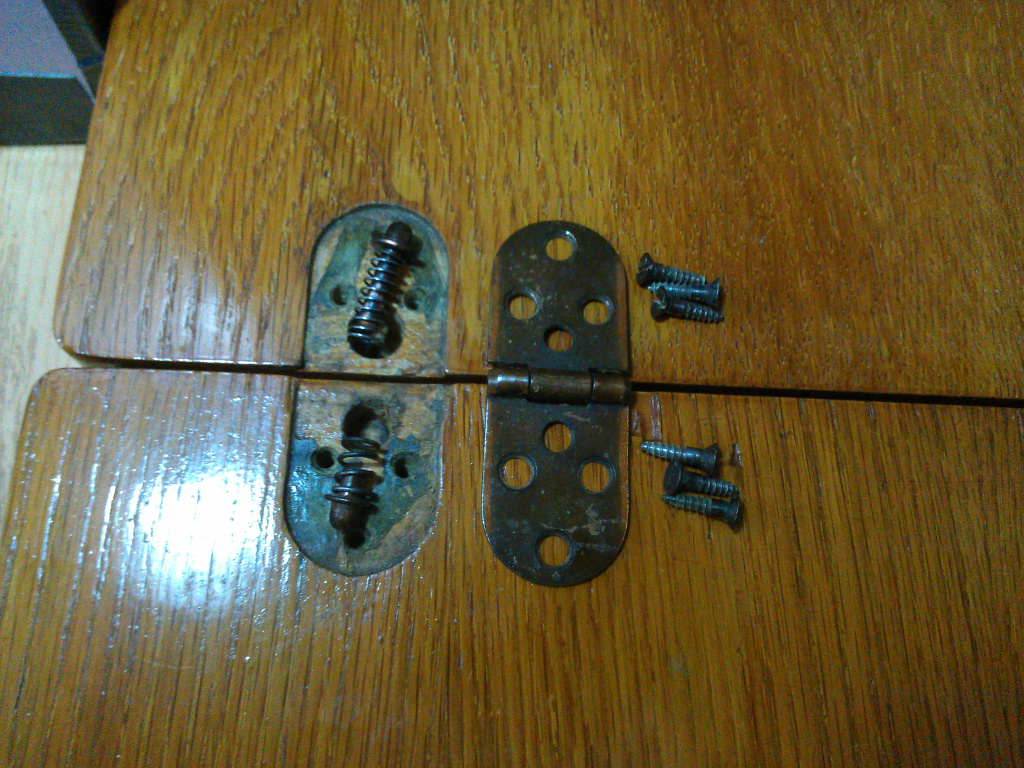 The pair of pins sit inside the rear leaf hinge. When the leaf is closed, the pins touch dome-to-dome, and pressure from the short pin (in the leaf) pushes the long pin into the little retention hole in the swing arm. When the leaf lifts, the spring under the long pin lifts it out of the retention hole, and the arm deploys.
The hack on mine to keep it closed without the lower pin was a simple flip of the support foot, from its normal outside-facing position to inside-facing in order to retain the arm when pushed in. I undid that, and obtained one absolutely-not-original washer and a jammed-in piece of plastic in the process.
With a lathe (or hand tools and patience), photos, and measurements, I could probably have cloned the missing parts without much trouble, but there weren't any details on the Internet. I'm now doing my part and fixing that: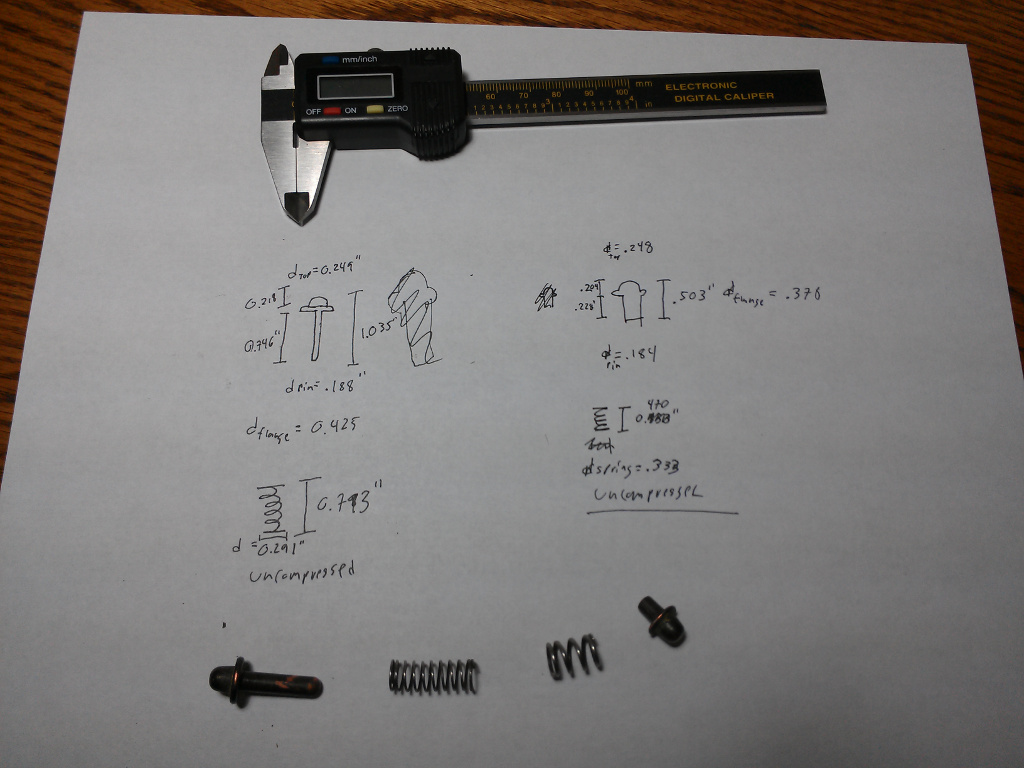 One of these days I'm going to get good enough with a CAD tool to just bang technical drawings for this kind of thing out, but that is yet to happen.
Measurements:
Small Pin:
OAL: 0.503″
Dome Length: 0.204″
Dome Diameter: 0.248″
Flange Diameter: 0.378″
Pin Length: 0.228″
Pin Diameter: 0.184″
Small Spring:
OAL, Uncompressed: 0.470″
Diameter: 0.333″
Long Pin:
OAL: 1.035″
Dome Length: 0.218″
Dome Diameter: 0.249″
Flange Diameter: 0.425″
Pin Length: 0.746″
Pin Diameter: 0.188″
Long Spring:
OAL, Uncompressed: 0.793″
Diameter: 0.291″
I read to .001″ but the tolerances do NOT appear to be very close, even by '40s standards, we're talking sixteenths, not thou. It does appear to matter that the parts protruding through the hinges be rounded enough not to bind or gouge.
My existing swing-arm sagged enough to not auto-deploy, so I put the replacement on and… it also sagged enough to not auto deploy. Funny how 60+ years of spring tension and/or weight bearing does that to riveted joints. Fortunately, it appears the interference is just from the end of the arm rubbing against the inside of the recess it slots into when closed, so I did a little filing to smooth the underside of the recess out (not adequate to make it auto-open reliably), tried adding a little piece of sticky-backed felt to prevent rubbing (exacerbated the problem), and ended up solving that problem with… a piece of clear packing tape stuck where the arm rubs. The high quality, thick, glassy stuff. I should probably paint the spot with urethane or something, but the tape is on hand, reversible, and works great.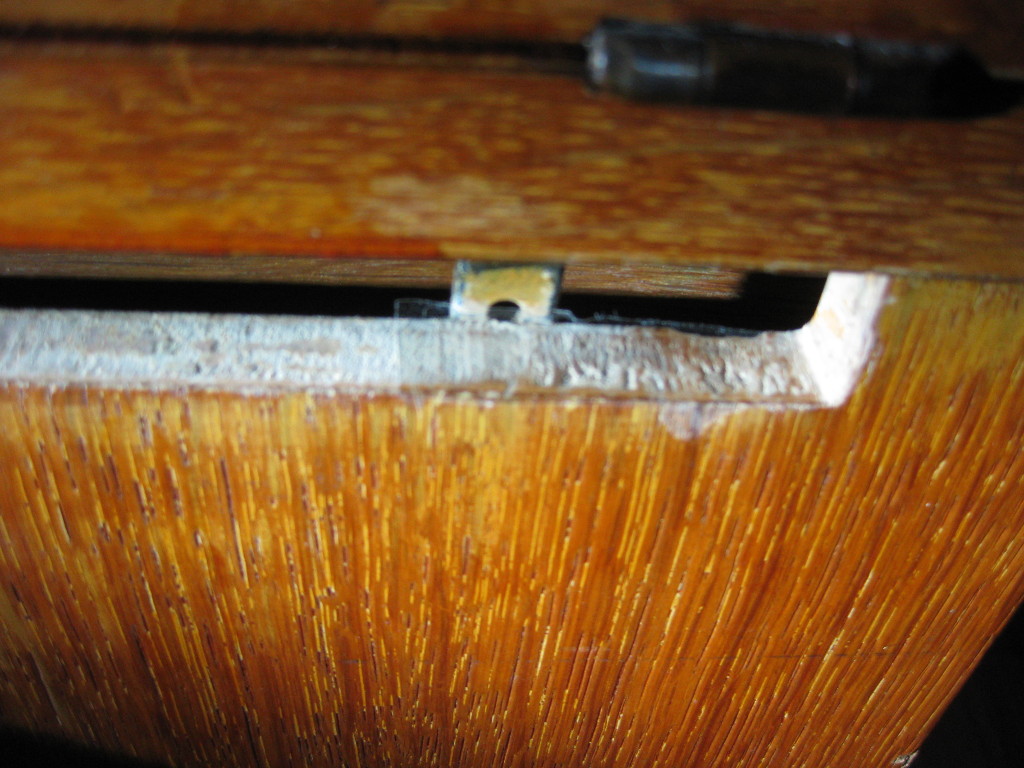 The arm doesn't quite sit flush when retained by the pin, but I'm yet to snag anything on it, and having it auto-deploy is way better than having it sit flush.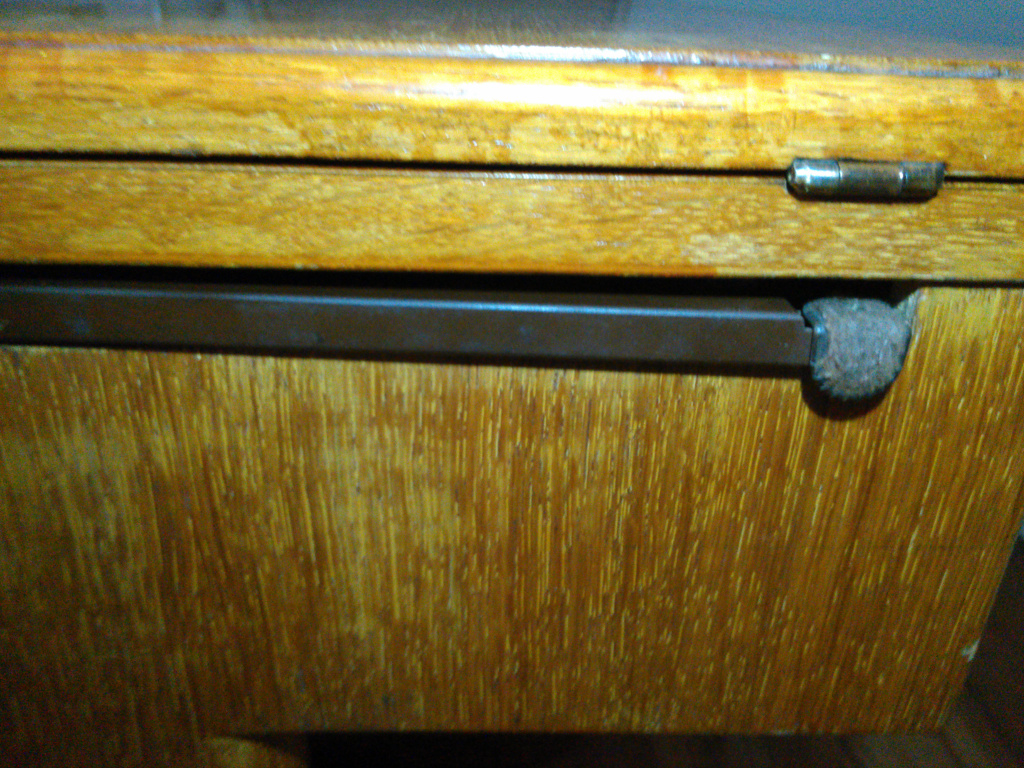 Cool. Still not as cool as my mother's White cabinet that uses a pulley and braided steel cord to lift the head when you open the leaf, but cool none the less.