I made an EDC post back in 2009 that is now woefully out of date. I've had the little pen case thing I carry come up a couple times recently, as people are more in to this sort of thing now, and thought I should update.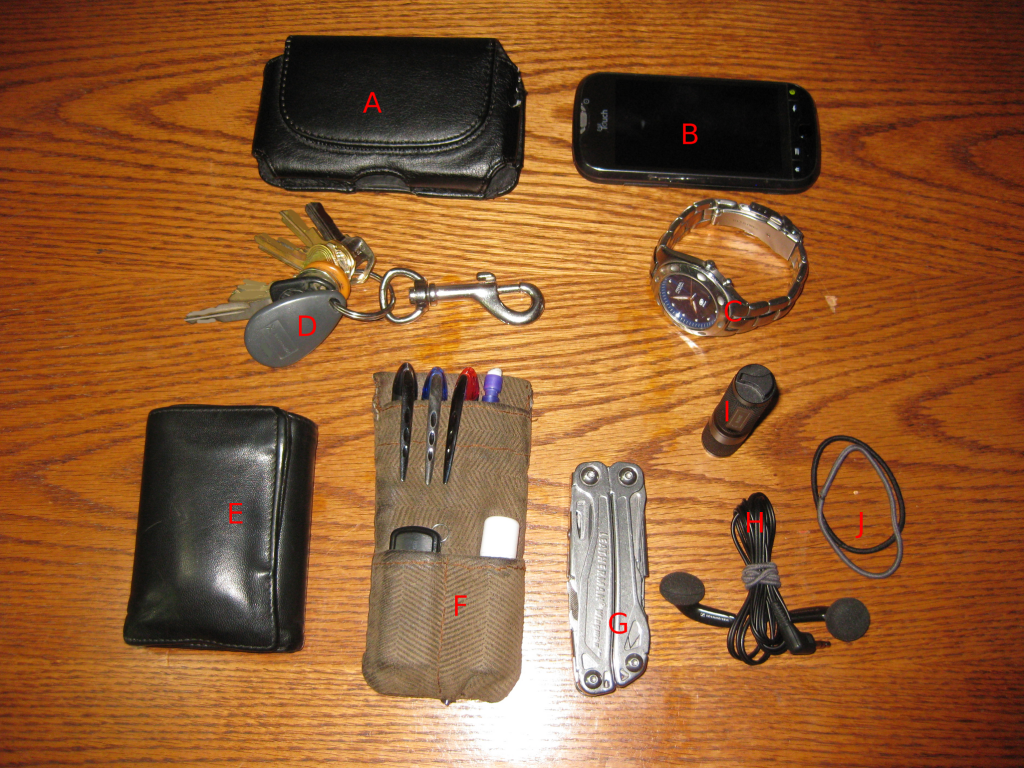 A – Belt, 1:00- Generic suitably sized phone holster, with clearance for the headphone jack cut out.
B – In the holster – T-Mobile MyTouch 4G Slide (AKA HTC Doubleshot), currently running a recent unofficial CM9 build. Detailed impressions here.
C – Wrist – My over-decade-old Fossil Blue AM-3314. It's a dual face (analog/digital), and makes a good grounding strap.
D – Clipped in to right front pocket – Keys, on a snap-hook. RFID fob for the office.
E – Left Front Pocket – Wallet. Leather, with card slots, and an integrated coin pouch.
F – Right Front Pocket – Self-made pocket organizer, holds Black, Blue and Red 0.5mm Uniball Vision Elites, 0.7MM mechanical pencil, Flash drive, and Chap stick. Discussed below.
G – Belt, 5:00 – Leatherman Wingman. Much lighter/thinner than a Wave, particularly since it clips on directly instead of needing a sheath. Not as well made, and the screwdrivers are way worse, but the smaller/lighter/cheaper (I've lost/destroyed two Wingmen in the last couple years) makes up for it.
H – Right Cargo Pocket – A pair of non-isolating earbuds (safe for wearing while walking). The current pair are Sennheiser MX300s.
I – Left Cargo Pocket – ThruNite T10 Flashlight. 1xAA, three mode (Hi/Md/Lo) with NO stupid blinking modes. Detailed impression here.
J – Right Cargo Pocket – A couple of spare snagless hairbands.
The major changes are that I've downsized my multitool and consolidated my ubiquitous computing device. I've also stopped regularly ruining cheap belts and started wearing a 5.11 1.5-Inch TDU Belt, which is thus far impervious to damage or problematic wear.
The interesting bit is, as always, the custom part. The current version of my pen case is this thing: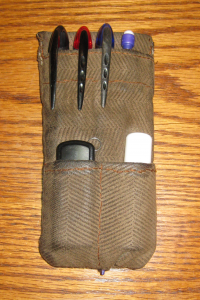 It's getting a little bit worn, and shows some minor design issues, but has been riding around in my pocket doing its job for several years now. The primary issue with this one is that every layer of material has a seam along the bottom, which allows the pencil point to escape through the stitching. When eventually I get around to replacing it, I think I'll make the lower piece out of a different material (thin split leather?) and wrap it so there is a fold at the bottom and stitches up the sides, the current mid-weight upholstery fabric is otherwise adequate (light, inexpensive, and non-abrasive). I never made a proper pattern, just mocked it in paper then cut fabric to match, so there will be some work in replicating.
This would feel totally ridiculous if it weren't so entertaining to read these from other people.