Source: Ars Technica
Article note: The hype cycle is fully out of control. Always on, connected, data harvesting, AI enabled ...Clippy.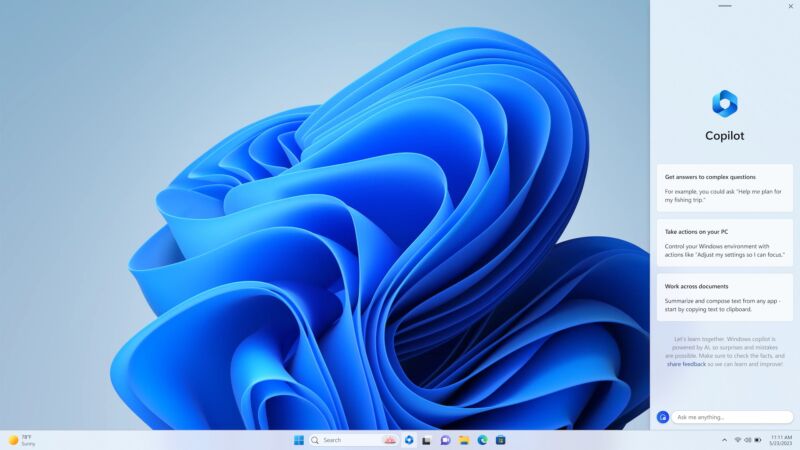 A couple of months ago, Microsoft added generative AI features to Windows 11 in the form of a taskbar-mounted version of the Bing chatbot. Starting this summer, the company will be going even further, adding a new ChatGPT-driven Copilot feature that can be used alongside your other Windows apps. The company announced the change at its Build developer conference alongside another new batch of Windows 11 updates due later this year. Windows Copilot will be available to Windows Insiders starting in June.
Like the Microsoft 365 Copilot, Windows Copilot is a separate window that opens up along the right side of your screen and assists with various tasks based on what you ask it to do. A Microsoft demo video shows Copilot changing Windows settings, rearranging windows with Snap Layouts, summarizing and rewriting documents that were dragged into it, and opening apps like Spotify, Adobe Express, and Teams. Copilot is launched with a dedicated button on the taskbar.
"Once open, the Windows Copilot side bar stays consistent across your apps, programs and windows, always available to act as your personal assistant. It makes every user a power user, helping you take action, customize your settings, and seamlessly connect across your favorite apps," wrote Microsoft Chief Product Officer Panos Panay.