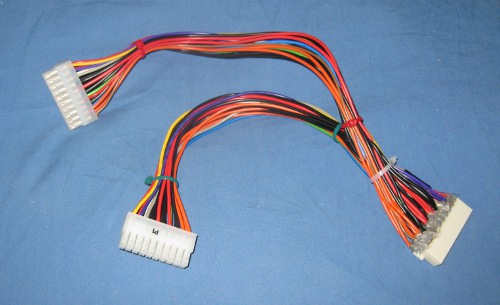 I think this thing might hold the record for the most times I used the phrase "Don't do this" in a single fabrication.
It's a 20-pin ATX Y-cable (for running two motherboards off a single power supply), built from two dead power supplies and a dead motherboard. The cables are available commercially, and if it works out will be ordered in bulk, but the research group needed a quick test cable, and all the necessary components were just sitting there in the dead parts pile…
The plan for these is to double up old Athlon (Thunderbred and Barton) machines on single power supplies, to reduce the number of power supplies (and total power budget. Related facts: 1. Switch mode power supplies are way more efficient when heavily loaded. 2. Power supplies and fans are by far the most fragile parts on disc-less machines) on a 128 node cluster built from scraps from KASY0 and some machines we recently inherited from the Computational Fluid Dynamics group in Mechanical Engineering. This cluster will be for testing network topologies (particularly Fractional Flat Neighborhood Networks), so the important thing is that it have lots of independent nodes, and not much else.