I just spent the week out of town, helping move the grandparents on my mother's side into a more appropriate house, closer to some of the aunts to make life easier as they age. I'm not saying this because I intend to make my blog more personal; it is just prelude to a couple other posts, including the below.
While we were packing things up, I expressed interest in "The Singer" to the aunts, having spotted a featherweight (I believe it was a 221) in it's case in the basement. My grandmother decided to keep it, but there was a second antique Singer down there, which wasn't going, and is now mine. The second machine is a 201-2, made in 1947 (old enough to have the pretty metal work), in a Singer #42 "Deco" cabinet. It apparently belonged (briefly?) to my great grandmother, and later to one of the great aunts, where my mother learned on it, before finding it's way into my grandmother's basement. Most of it's doodads (special function feet, zigzag, buttonholer, etc.) are still with it, and everything seems to be in reasonably good condition.
The machine (I'm aware the cabinet is not quite fully open in any dimension):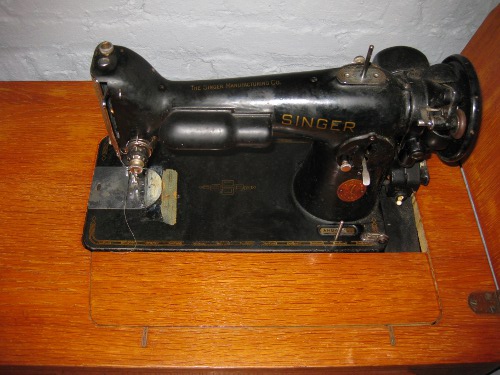 Some of the accessories, labelled as best as I am able: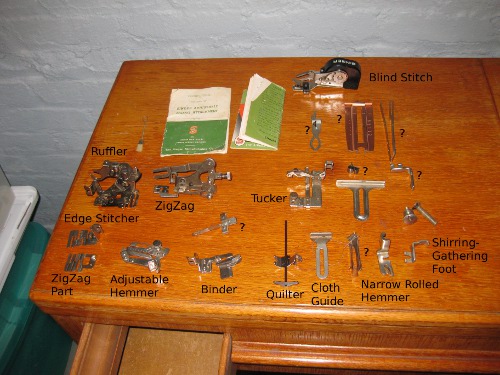 Buttonholer: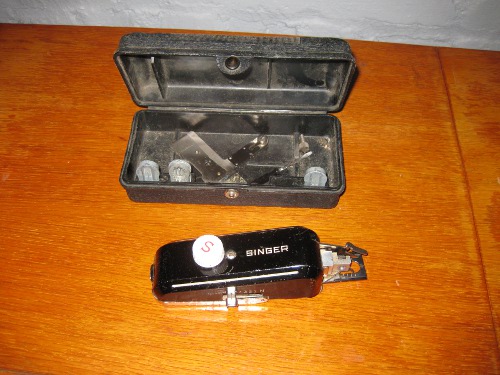 If anyone who knows about these machines can tell me what the other metal bits are, or correct my tentative identifications, that would be really cool.
I had read about old sewing machines in general a while ago, because of my fascination with old electromechanical devices, but had never really got into the specifics. Because of this one falling into my possession, I've started reading in more detail, and there are lots of interesting things to read thanks to the big, active community around the things. As far as I can tell, this machine and its accessories are perfect candidates for restoring and using; nothing particularly unusual or desirable (at least that I've identified so far), not in extraordinary collector type good condition, but a very well liked old machine, and in good enough shape to be beautiful and functional with a little work. I know it's going to need a thorough cleaning/oiling, and have the entire wiring harness replaced (the EE portion of me recoiled in horror when I looked it over, the existing wiring is a disaster in potentia), which should be a fun project in itself.
Right now, it's sitting in the basement at an aunt on the other side of the family who lives near the grandparent's old house until I can transport and store it, but eventually I'd love to restore and use it; it's beautiful and has history, and based on the pictures of work produced on similar machines, very functional once you learn to work one.