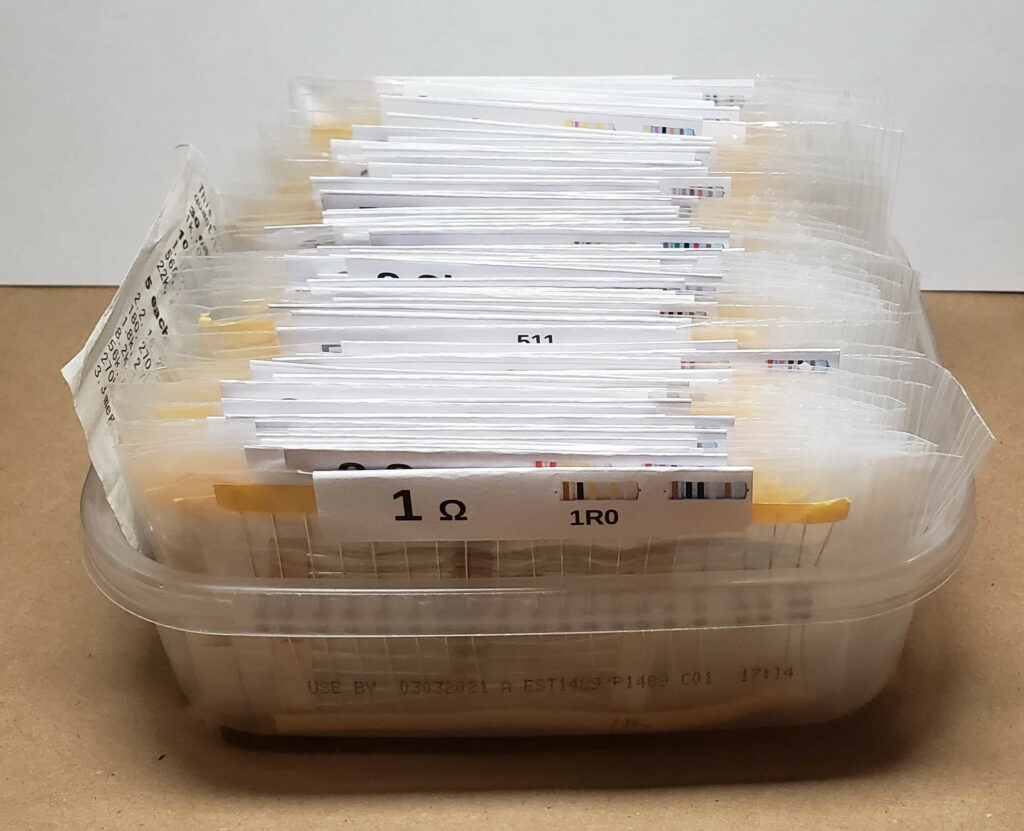 As I continue my electronics part organization spree, I was looking for …something… reasonable for through-hole resistor storage. Resistors are a problem because there are a lot of values, once mixed they're possible-but-irritating to distinguish, and strips of resistors are awkwardly shaped.
There are some special-purpose drawers, most of which aren't very flexible (configured to hold exactly the E12 series, or with slots too small for the 4″ strips a lot of cheap resistors come in, or…), and many of which are enormous 3D printing projects in their own right that I didn't feel like dealing with. There are some systems with small or card-catalog style drawers, but I don't stock large enough quantities of resistors to invest that kind of money/space, and don't plan to. I also looked at variations on schemes using card holding binder pages, since I really like the cheap SMT binders (link is the ones Adafruit stocks, mine are all the ubiquitous brown ones with gold-debossed Chinese text because I'm cheap), but after I bought a pack of the appropriate business card slot binder sheets I realized I'd underestimated my size requirements.
After quite a lot of looking around and stalling, the only thing that really appealed to me was cloning Zach Poff's Edge-Labeled Baggie Method, so I did.
I added some E24 values (like 51x and 75x) that I had stocks of from one purchase or another, and a few other odd labels that I happen to have stocks of. The added labels are missing the cute little colored resistor images because I'm not sure how they were generated and it wasn't urgent enough to spend a ton of time on – I just put the value and the band numbers on those.
I did cheap out on basically every part; I used 2mil 3×4″ baggies instead of the nice 6mil ones, and I used AmazonBasics 1 x 2-5/8 Inch labels that list themselves as compatible with Avery 5160 labels. Both of those may eventually prove to be a mistake, but for now they work and feel fine.
One thing I am looking to improve upon, I currently have them stored in an old Kroger deli meat tub, which is OK but not ideal. I don't think I can find something that will hold them reliably and still clear the 3″ height of the drawers I've been packing a lot of my component assortments into, so I'm probably looking for something that will close, possibly a large-ish 3×5 card organizer.