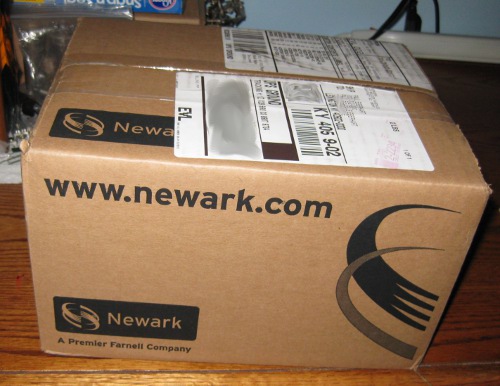 is the kind full of TOYS (or, well, toy parts).
This order has some bits and bobs (optoisolators, limit switches, etc.) for the never-ending milling machine project, a couple spiffchorders worth of parts (more on that later), and some spare ATMega328s, because they seem to be a universal solution to "medium" microcontrollers.
This is the first time I've made a personal order through Newark, their "We won't tell you exactly how much this will cost to ship until you've agreed to pay" policy is more than a little customer-unfriendly for small orders, and their website is the furthest thing from user friendly… I AM an electrical engineer, and picking what I want there is a challenge. I made a couple mistakes in this order: I grabbed 15.24 mm (as opposed to 7.62 mm) 28pin DIP sockets (just not reading), and apparently not all 12×12mm MCDTS2 switches can accept the caps described as "Switch Cap; For Use With:12×12mm MCDTS2 Series of Multicomp Tactile Switches; " because the ones I ordered sure as hell don't have attachment points for the covers like the picture in the datasheet.
Otherwise, very satisfied. Low price, massive selection, and fast ship. I think I'll add them to the list. For the curious, my parts usually come from DigiKey, Sparkfun, and AllTronics, which are broad, easy, and cheap respectively, although other vendors don't have the cachet of the little red Sparkfun boxes.