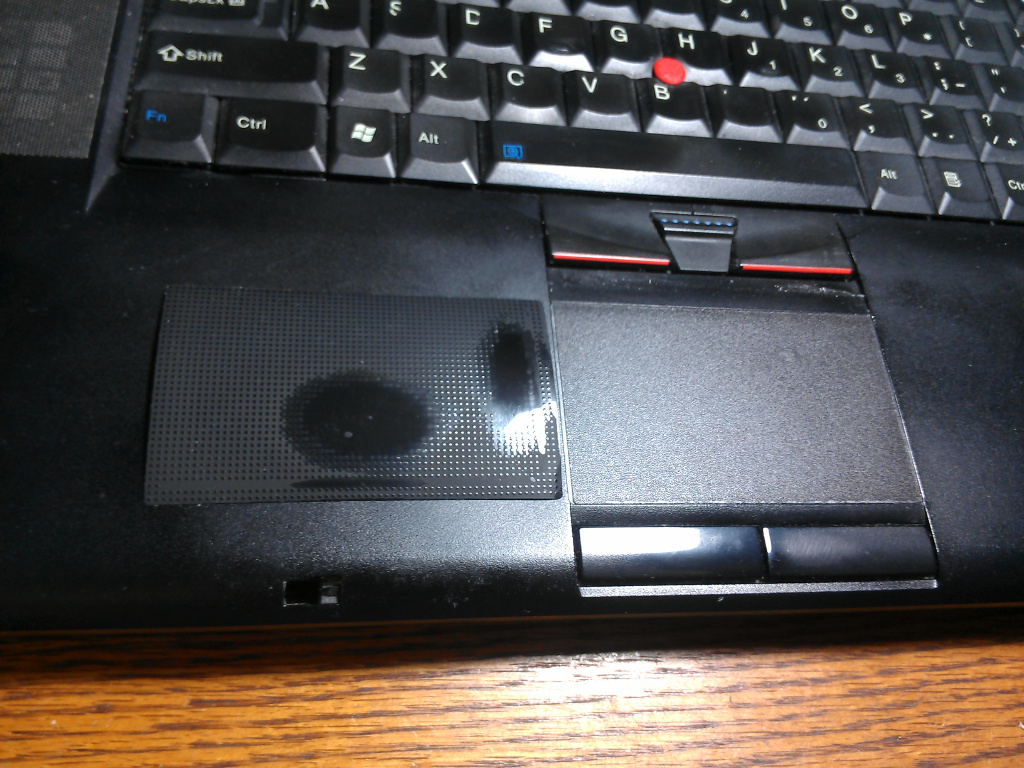 I found a forum.thinkpads thread while looking into another touchpad issue recently, and learned two important facts:
The bumpy touchpad texture I never loved that had worn off my T510 is just a sticker.
Those stickers are replaceable.
These are good facts. I promptly decided to order a replacement from TectY/Skinstyler, as suggested in the thread. The measurements I got from waggling calipers at my machine are 45mm x 76mm, Tecty delivered pretty precisely, and the fit seems about the same as the original (I can stick the original to the backing from the replacement and other than corner relief they match). There was an option to upload a picture for special shape/relief, but it really isn't noticeable.
There is a coupon code in the thread where I found it, so I ended up paying a little less than $12 to try (and they sent a pair for quantity 1, which is super awesome). It ships from Germany, which means they won't show up instantly, but shipping is free, tracked, and prompt, so no problem there.
The old one peeled right up once I gave it a serious attempt, and the adhesive residue came off cleanly with a pass of limonene and a pass of isopropanol. The new stickers are fairly stiff and have absolutely no tendency to bubble, so it was really easy to apply.
After using it for a couple hours, it's better than I recall the bumpy pad being when it was new, and drastically better than the bumpy pad with the most-used areas worn off. I can't make claims about the wear properties, though I expect it to actually improve a bit with wear. I think it is in the same class as any good touchpad surface I've encountered. Worthwhile upgrade, would have done it earlier had I known. I wish all touchpad problems were this easy to solve.