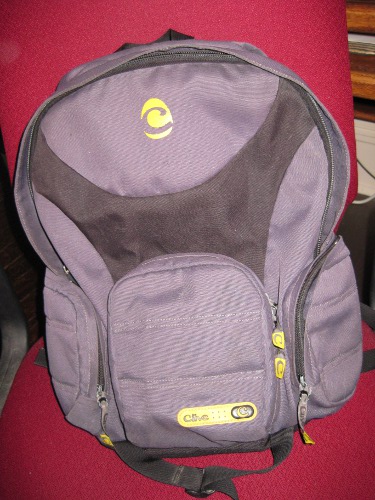 I've always had a thing for high quality, high utility bags, so when my beloved old Clive Front backpack finally started to fall apart, I was pretty unhappy about it. Since Eagle Creek (the former parent/sister company of Clive) re-absorbed Clive and subsequently killed the line (and purged most references to Clive from their website), I was preparing to write it off as dead. I sent an email to their service department asking if they would still service the bag (Clive bags came with an absolutely amazing lifetime warranty) anyway, and they proved they are a class act by informing me that it was indeed still covered, and promptly producing an RMA number. It took a couple weeks for it to come back, but it has returned with a new bottom panel neatly sewn in.
That bag has been in near continuous use since my sophomore year of high school, and until this round had only needed service once when the zipper toggles snapped. It is a hell of a bag.
I'm still irritated by the death of the Clive line. Some of their later products were pretty uninspired hipster junk, but a quick trip through the wayback machine to Clive's old skateboard backpack line (The only kind of skating I ever do is longboarding, and no one in their right mind is going to try to strap a 34" deck to a backpack, but they were their best bags anyway) shows what good backpack design looks like.