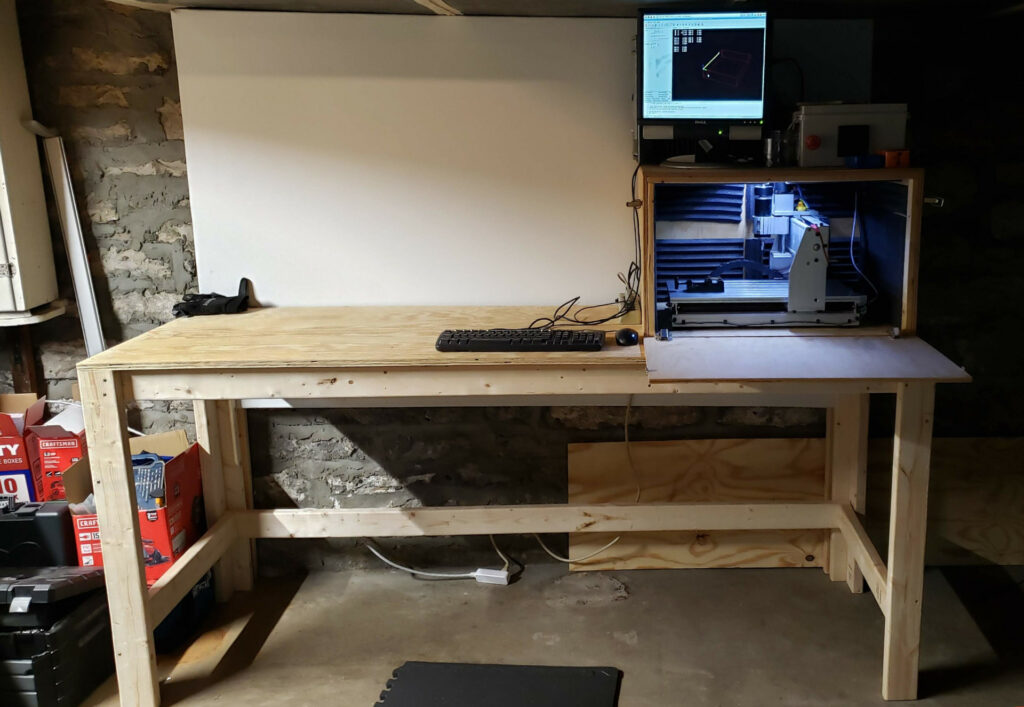 Since I moved in to my current house in May, I've been thinking about putting a (n additional) workbench in front of the inscrutable 7ft wide projection screen (?) thing some previous tenant built in the basement. I sketched out what I wanted early summer, and drew a proper design and cut-list in September – but by then the grueling part of the break-less fall semester had started, so it never got to the top of my list. This week I finally got around to picking up the parts and building it. This has been a rate-limiting step for other projects, since it was partly needed as a home for my CNC router.
I designed for a 30″x7′ top, 7′ to suit the space, and because that's about the largest thing I can transport in any readily-available vehicle, and 30″ because I like a deep work-table, and my CNC router enclosure was built to be convenient in either direction on a 30″ wide table.

It came out under $100 in materials (…it should have been $120, but the clerk at Lowes counted my 2x4x8′ stack, said "9," I confirmed "9" and then they charged me for 5), half of which is the sheet of 23/32 exterior ply (I designed for 3/4 sanded, but the bay that was supposed to have 3/4″ sanded was full of 5mm, and I wanted to be done, so closest match).
I click-holed for a while while I was working out the design, and found a whole bunch of designs that required more wood-working precision than I can reliably muster at that scale, a bunch of designs with obstructed fronts that you can't sit at, a bunch of designs with obvious weaknesses or specializations for tasks I don't need… so I pulled up Inkscape and sketched my own frame, below.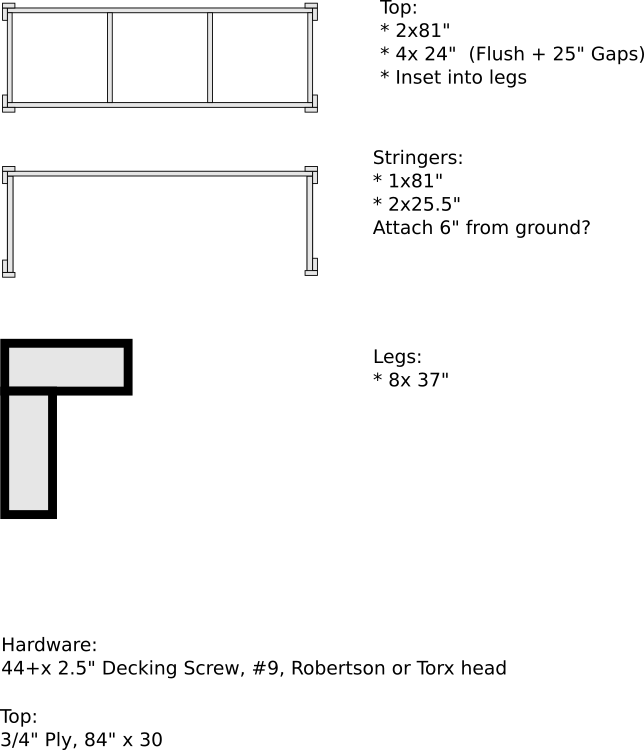 I designed to intentionally leave a well-supported 3/4″ ply lip around most of the edge to clamp to, but fully support the corners for beating on. Everything was also designed to be doable with lumber transportable in a midsize SUV, movable and assemble-able by a single person, and be built using only a circular saw and drill/driver set (which you can see piled up next to it because I've been too cheap for decent tool storage).
I'm not sure why the corner-joined 2×4 leg isn't a more common design feature, I think I only saw one on the web built that way. It seems like it should offer a bit of extra stability over flat-joining (unless you do the fake stacked half-lap thing, which was the other design I liked), and minimizes driving screws into end-grain. I also don't know what I'm doing so I assume there is a good reason this isn't common practice.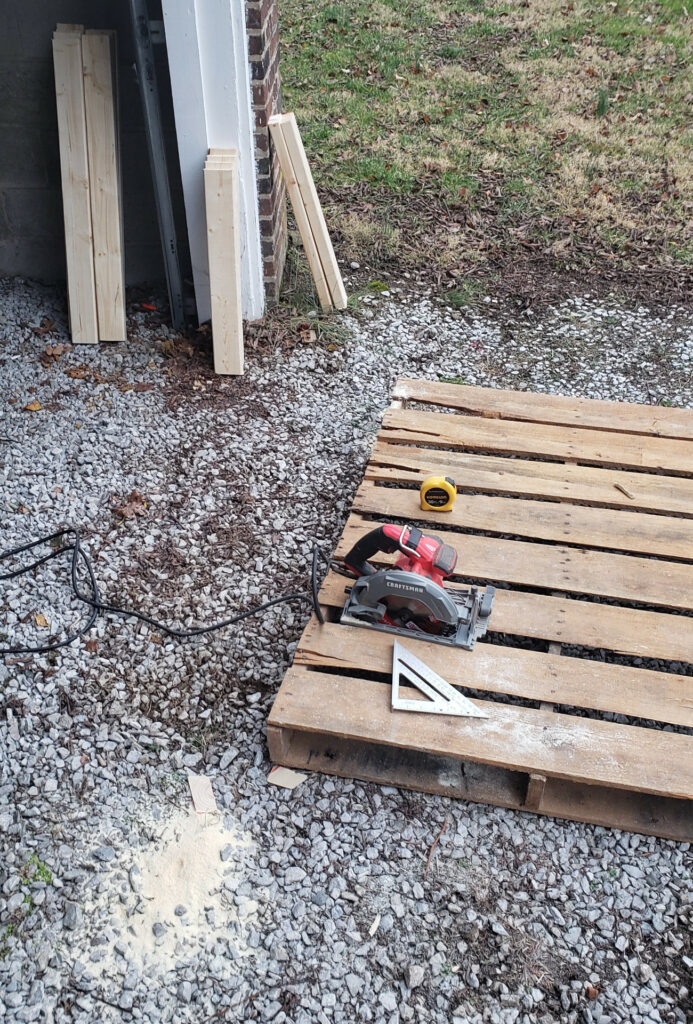 One useful side-lesson is that pallets make great platforms for circular saws, there are a couple old pallets in the garage of this house, and the grooved surface with clamping edges that it's generally OK to nick is vastly superior to the old "sheet of foam" trick.

Is it perfectly sturdy? – no, and I could probably improve by adding a few more screws – the 44 above is for the frame with no top attachment, I bought a 50 pack to do the whole thing, so it's a hair sparse. It would also be easy to put a bit more bracing in if the wobble turns out to be an issue.
Did I exactly follow my plans? – Mostly. All the cuts match, but I put the stringers at 8″ off the ground because it looked better as I worked (and shorted screws, above).
Is it level? – no (though I could and probably should put some leveling feet or wedges inside the legs – I blame the visibly wavy 70yo concrete floor.).
Does it do what I need? – Absolutely, and for cheap and an afternoon of pleasant work.