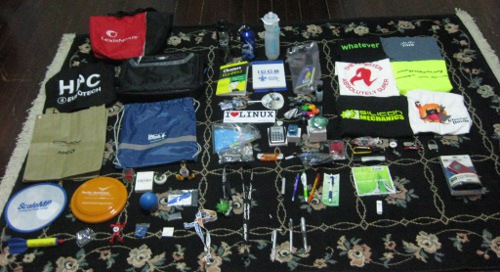 (Larger image linked)
Now that the end-of semester panic is over, time to get to other important* things. Like sorting out my schwag haul from SC09. The food products were previously removed and consumed and/or disposed of, based on how likely they were to poison me. Some superlatives:
* Best T-Shirt: Silicon Mechanics (this one was close, Cisco has better fabric, Platform Computing has a clever slogan, and Green500.org is a XXXL made of the most garish jersey fabric I've ever seen)
* Best Tool-Thing: Juniper Networks screwdriver/light/level thing
– Runner up: CHREC lighted eyeglass screwdriver
– Runner up: Arctic Region Supercomputing Center rechargeable chemical hand warmer
* Best Toy: NCHC Solar Powered Car
* Best Bag: SC09 Conference bag (nice padded laptop affair)
– Runner up: Giant LexisNexis tote (that I should probably put in the microwave to get rid of the tracking devices in…)
* Best Electronic Gadget: ??? (possibly Sure Star computer) powered USB Hub/Cardreader (seriously, this thing is nicer than the one I've been using.)
– Runner up: YMI 2GB flash drive
* Most Hackable Schwag: PIONIER button (button with a USB cable; emulates a keyboard and types their URL when pressed. Want to hack and replace the action.)
* Best Lanyard: Cray (this thing is seriously slick, all the other lanyards sucked)
* Best Pun: OpenGear Aluminum bottle opener
* Best Pen – BlueArc blue LED pen(was going to go to FusionIO with it's light-up gel grip, but it broke the first time I fiddled with it)
* Best LED Object – Instrumental conductivity-sensitive LED "Ice" Cube
– Runner up: NASA flashing LED badge
I wasn't really actively schwag collecting; these are just what I got making a loose circuit of the show floor.
*This is totally unimportant.